In the first two articles of this series, I showed you how to set up Brew and install the first packages.
Now I would like to show you my list of installed packages, which may help you to get started. Many programs you probably already know.
With the command
brew cask list
the installed casks can be displayed. This can then look like this.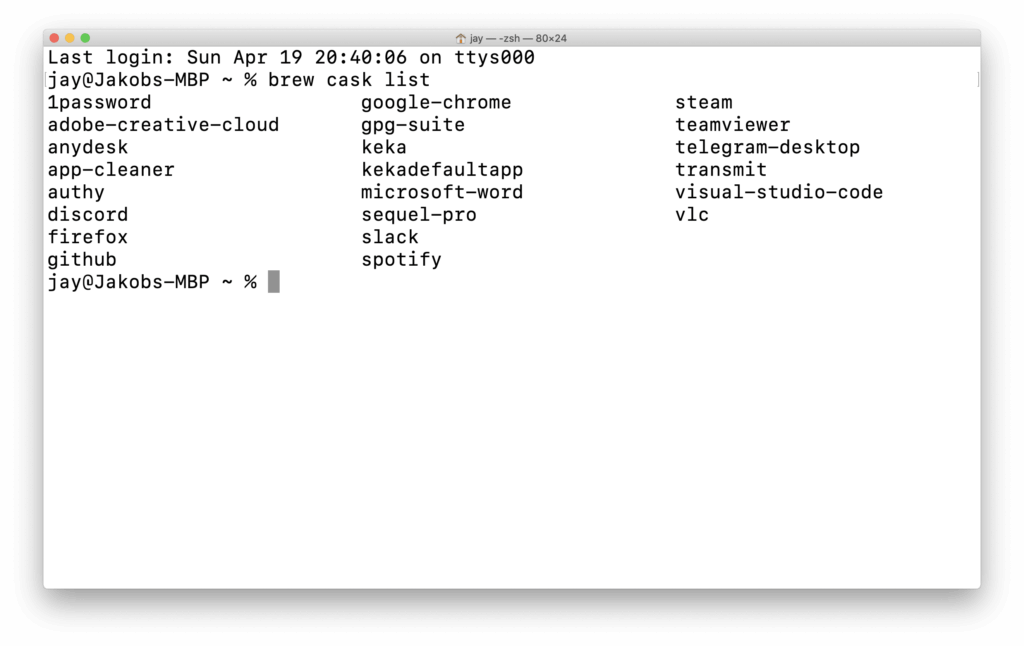 My list are these:
visual-studio-code firefox google-chrome 1password microsoft-word spotify slack adobe-creative-cloud anydesk app-cleaner authy discord telegram-desktop github gpg-suite keka kekadefaultapp sequel-pro steam teamviewer transmit vlc
I install these packages on every computer or with every new installation of macOS on the system. As a result, my computer is quickly ready to use and has everything I need.
The installation would then work like this:
brew cask install visual-studio-code firefox google-chrome 1password
correspondingly desired packages simply line up one after the other, so they are installed in one wipe.
brew bundle
I know there is still a better way to install packages reproducibly with brew bundle. However, this is not yet used in my case for reasons of convenience.
This is mainly because I am lazy to care about it and it has no serious use for me, since I always want to have the latest stable version of the mentioned programs anyway. Nevertheless, I would like to take a closer look in the future.